In World editor, the world window displays the elements (objects or groups) of the entire scene according to the camera position, zoom level and style (perpective, freestyle, etc.).
All elements are displayed in space, relatively to the ground.
If you enter a group, you can only edit elements part of that group. All objects outside the group are locked and darkened.
Selecting elements outlines their limit in white and displays their coordinate system. Unselected elements limits are displayed with the color of their respective layer.
The view cube is displayed if enabled.
Import an image
Edit
Drag & dropping a PNG image in the World window will create a new object named according to the image file:
first, MagicaVoxel will size the object. One pixel (px) of the original image will correspond to one voxel (vx) of the model

x axis will match the width
y axis value will be 1
z axis will match the height
If the image is larger than 256 x 256px, your image will be resized to fit in a 256 x 1 x 256vx object

then, MagicaVoxel will attempt to use colors of its active palette to attribute colors of the image to the voxel object
Using the same drag & drop technique in the Model window will replace all the voxels of the current object.
World size
Edit
MagicaVoxel world limit is -1000 / +1000vx relative to the ground center, this means that:
the editable world is 2000vx wide on each axis
the renderable world is 2000x2000x1000vx wide (all voxels above the ground)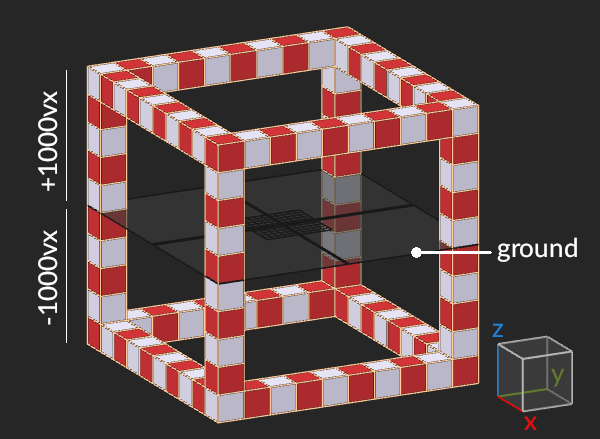 Depending on your hardware, there's also a limited number of solid voxels that can be rendered. See geometry render settings and Config.txt render buffers.