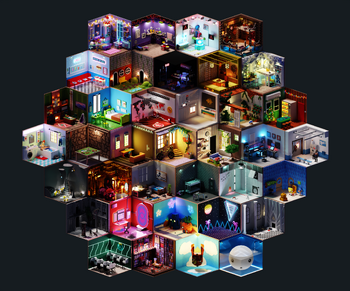 Check our Discord server, channel #one-room-2020.
Hello y'all, its been almost one year ago that we had the one room server collaboration!
So I welcome you to our annual collaboration One Room 2
Before we start please read the rules to avoid confusion and unnecessary questions.
Rules
Do not change...

any colours in the palette
any render settings
the size of the editing space.
Changing any of these parameters will disqualify your submission and you will need to redo it.
Your room should not exeed 125x125x125

In the one room template file is a one thick voxel rim. Do not change it.
You are allowed to change the wall and floor colours
Send me your submission via DM.

When submitting your file call it One_Room_YourDiscordName
Take not that the final version will be posted on twitter and instagram. By participating in this collaboration you agree that its okay for me to post on Social media and make
There is no limit how many submissions you make, but I cant promise you that all of them will get included.
Additional info for the palette
First column is metal
Second column is glass
Third column is emission
Very bottom rom emissions
Second to last row glass
Rest is diffuse

Challenge organized by :Dima
Schedule
Event submissions, in your own timezone:


nov. 19, 2020     dec 10, 2020
Community content is available under
CC-BY-SA
unless otherwise noted.