MagicaVoxel is a 3D modeling software based on voxels assembly.

Introduction
"A free lightweight 8-bit Voxel Art editor and interactive path tracing renderer.[1]"
MagicaVoxel is a multi-platform freeware created, developed by
Ephtracy
, and available since 2015
[2]
. It's a 3D modeler of complex voxel scenes, with its own
ray-tracing
rendering engine.
Its native format is .VOX for 3D models, and .PNG for image exports or palette files.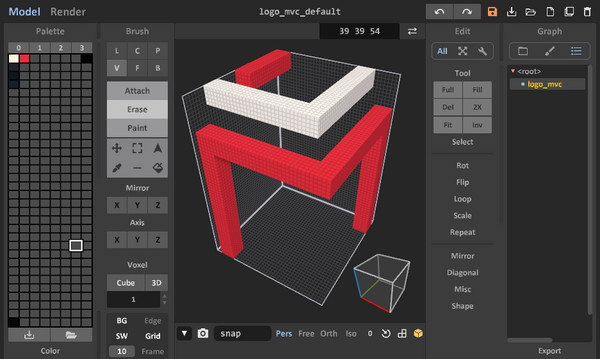 Downloading MagicaVoxel
The latest version is only to be downloaded on the official website.
Software's licence:
Free to use for any project (no commercial licence required)
Credits to the software are appreciated (e.g. "created by MagicaVoxel")
Distribution of the program package (original or modified) is disallowed
Installing MagicaVoxel
MagicaVoxel is available on:
It's a standalone (or portable) software ; it doesn't need a regular install process, just a copy/paste:
Downlad the .ZIP file
Extract the archive in any empty folder on your computer
Launch MagicaVoxel.exe (you can make yourself a shortcut anywhere)
If you get black screen on macOS Sierra, try this:
Extract the whole folder.
Move MagicaVoxel.app outside the folder and then back to it.
Configuration
MagicaVoxel interface does not provide configuration options. However, some parameters can be changed into the config.txt file, found in config/ folder (where you extracted the .ZIP file).
MagicaVoxel alternatives
---
↑ MagicaVoxel's developer official website
↑ Based on Version 0.96
Community content is available under
CC-BY-SA
unless otherwise noted.